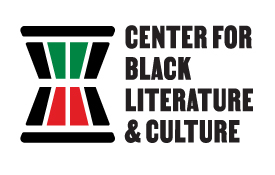 Located in the R.B. Annis West Reading Room at Central Library, the Center for Black Literature & Culture is home to a 10,000+ item collection of books, CDs, magazines, movies and research tools, all of which showcase black history and culture. This space is for ALL who are interested in exploring the rich heritage that has influenced nations across the globe. Visit us to browse our collections, join us for one of our signature programs, or explore our digital collections and website online. Tours are available by request.
The creation of the Center for Black Literature & Culture is made possible thanks to a generous grant from Lilly Endowment Inc.
---
Programs
The CBLC regularly hosts authors, poets, and other programs throughout the year, and we hope you can join us! Recent favorites include workshops with poet and friend of the CBLC Adrian Matejka, African American Genealogy, Reparations 101, Readings of Frederick Douglass, and more. Check back here for updates or contact us if you have an idea for a CBLC program or partnership.
---
Featured Annual Events
2023 CBLC 6th Anniversary Celebration
Saturday, October 14 from 11 a.m. - 2 p.m.
Since its grand opening in 2017, the Center for Black Literature & Culture (CBLC) has hosted an annual anniversary celebration of the Center's creation. The CBLC remains a place for all to learn about those of the African Diaspora, and for those of African roots to see themselves reflected in powerful and positive ways. This year's event will include a performance from Sapphire Theater Co., DJ IN4RED, a 360 photobooth, and much more! For more details see our calendar of events.
This day will also feature the program, Using A.I. to Self Publish. Discover how artificial intelligence can revolutionize the publishing industry and empower authors to bring their stories to life. Learn about cutting-edge technologies and tools that can enhance your writing process, streamline editing, and create stunning book covers. Learn more and register.
Book Fest & Juneteenth Celebration
During our annual Book Fest and Juneteenth Celebration on June 17, poets, visual artists, storytellers, musicians, and book clubs came together to emphasize cultural literacy! Featured speaker was Galveston native Fay Williams, Esq. in a moderated conversation about the history of Juneteenth. In addition attendees enjoyed a 360 photobooth with DJ IN4RED and activities for kids in the Learning Curve. We look forward to seeing you in 2024!
Hoosiers Reading Frederick Douglass Together
Join us annually in July to read and discuss "What to the Slave is the Fourth of July?" by Frederick Douglass. The Massachusetts Foundation for the Humanities started the program, Reading Frederick Douglass Together, to encourage families, friends, neighbors, and co-workers to gather and read the speech aloud to help shape our understanding of freedom in American. If you are unable to attend a reading, you can find the text here. There is a printable tip sheet, discussion guide, and page of helpful resources. In addition, we invite you to explore Indiana University School of Liberal Arts' Frederick Douglas Papers.
---
Resources
Center for Black Literature & Culture: The Power of Black Voices Website
This online collection includes artifacts, photographs, and articles in the categories: Black Literature, Indianapolis Black Heritage, Black Culture, Black Librarianship, and The African Diaspora. Browse the collection here.

Center for Black Literature & Culture e-Book & Audiobook Collection
You can download and stream e-books and audiobooks from the CBLC digital collection in OverDrive or in the Libby app with your Library card. Browse the collection here. If you have never borrowed from OverDrive before both app directions and browser directions are available as well as a video tutorial and Overdrive Support.
Murals for Justice Collection
In June 2020, local artists of color were commissioned to create murals from artwork originally created on the wood that was used to cover downtown Indianapolis windows amid that year's May protests of the police-involved killings of George Floyd, Breonna Taylor, and Dreasjon Reed. The purpose of this commissioned work is to ensure this art was archived as a part of Indianapolis history. The Murals for Justice Collection is housed in the Center for Black Literature & Culture. Each mural is also available for checkout. Learn more here.
Need help? Ask a Library staff member at any of our locations or call, text or email Ask-a-Librarian.